Thanks to the phenomenon that is
twitter
, I had the pleasure of discovering
HauntedHou
se.com
and it's wonderful webmaster
Christopher
. Like us, Christopher is a
Millennium
aficionado and was happy to share with us his thoughts and feelings on one show that left an indelible
impr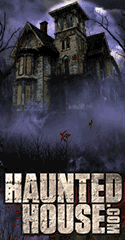 ession upon him. Imagine our delight when he extended his friendship to us and offered to support the campaign by way of an interview with yours truly.
Hauntedhouse.com

really has to be experienced to be truly appreciated. If you lean towards all things

horror

and

Halloween

, as
I do, then this website is a veritable goldmine of information and goodies and what's more it is the work a fan of the show and, more recently, an appreciator of the campaign, what further impetus do you need to check it out?
I could not in all honesty do justice to the impressiv
e content the site has on offer. If you are seeking the best in horror podcasts, haunted house locations, Halloween related goods, the meaning of life (well, evidently not the latter but it has to be the only thing this site doesn't have) then head on over and get lost in the content. I did and a happy hour went by in the blink of an eye.